It is that time of year once again. It is cold outside, your skin is dry, your lips are chapped and your skin looks like it hasn't seen the light of day in over a century. One constant thing I always hear among women is how naturally beautiful they feel in the summer. We leave our hair natural and wavy. We also tend to wear less makeup because our skin is naturally sunkissed with Vitamin D. All around we just feel prettier. So how can you give yourself that same self-love and confidence you have in the summer during such an icy season? Here are a few tips and tricks that have been helping me:
Problems & Solutions:
Can you say chapped lips?
When your lips are cracking and peeling it could be one of the most uncomfortable feelings. No one wants to feel self-conscious over having unkissable lips.
You need two things:
This exfoliant is specially formulated with sugar to exfoliate and a blend of Organic Shea Butter with refreshing Peppermint Oil to nourish and soothe dry lips.
Use this a few times a week to scrub the dead skin off your lips.
Vaseline with Cocoa Butter locks in moisture to help heal dull, dry skin heal. I use this multiple times a day on my lips to keep them moisturized. After a few days of upkeep, you will notice a huge difference in the feel of your lips. You can even buy travel sized to put in your make-up bag for on-the-go busy days.
You have dry flakey skin on your body and face.
This is almost exactly the same treatment for rejuvenation as your lips. Winter air dries our skin out so we need to work extra hard to keep it feeling as supple as it does in summer. Anything dry on your body you need to exfoliate and hydrate. The biggest challenge is finding the products that work for you and keeping up with your body's maintenance.
Tree Hut Shea Sugar Scrub is the exfoliant that I have been using most. Originally only found in Ulta, it is now featured in local drugstores making it easy to buy. It feels amazing scrubbing your skin with this and it smells UNBELIEVABLE. I'm currently using the fragrance Coconut Lime. I scrub my skin with this every other shower and after I shave.
Follow up with your favorite body moisturizer. I cannot stress enough to use moisturizer on your body, not just after you exfoliate, but EVERY DAY. It keeps your skin looking younger, glowing and healthy. (Tip: I mix a few drops of liquid coconut oil in my moisturizer and rub that into my skin as well.)
For your face:
Make sure you use an exfoliant that is specific for faces. The skin on our face is more sensitive than the skin on our bodies, so you want to find an exfoliant with the appropriate ingredients. I am obsessed with Kate Sommerville Exfolikate. 
This product is a bit pricey, but this is one of those products that I would swear up and down is worth EVERY penny. Your fine lines are diminished and your face is glowing every time you use it. It provides chemical and physical exfoliation for improved skin texture and pore appearance. Vitamins A and E provide antioxidant benefits while Aloe Vera and Honey help soothe and condition skin. Salicylic Acid helps improve the appearance of pores, Lactic Acid is a natural Alpha-Hydroxy Acid that "chemically" exfoliates your skin, and Papaya and other fruit Enzymes help enhance skin exfoliation.
For a cheaper solution that I have also used for years try, St. Ives Apricot Scrub with Acne Control. It cleans out my pores with the acne fighting ingredients and exfoliates my face as well.
Moisturize your face every morning and night. I am in love with iS Clinical Reparative Moisture Emulsion. This makes my skin feel and look moisturized all day. It is a bit pricier, but our faces deserve the love.
For a cheaper alternative, I use Neutrogena Daily Moisturizer with SPF. This is what I am currently using because a $90 face cream just isn't in the cards for me at the moment. This moisturizer does the trick for me, but I do notice a huge difference in the quality between the two. The Neutrogena hydrates my skin but feels more temporary whereas the iS Clinical I can noticeably tell penetrates my skin for a full day's hydration. If pricing isn't a problem for you then try the iS Clinical. You won't be sorry.
You're ghosting yourself because you're so pale.
I must admit I haven't been using it as much, but when I need some quick color these are the products I use. First of all, you must exfoliate and moisturize before using any of these. I cannot stress this enough.
Get a tanning mitt so your hands don't turn orange and you can apply easily.
Apply St. Moriz instant tanning foam  in dark or medium to the entire body. Use cautiously and less product on the feet and face. One trick I have learned is I mix the foam with moisturizer on my feet, around my ankles, and on my face. This causes a less dramatic color to form on those areas. Sometimes I go crazy and I do two coats of this foam on my body.
If you prefer using a creme or gel try Tarte Brazilliance Plus.
One reason I prefer the foam is it shows the color immediately so I can see where I need to even it out on my skin more. I like to lather myself dark once or twice, then take a shower a few hours later after the color deepens. The shower gets rid of any tanning odor and streaks.
If you follow these steps I promise you won't look like this…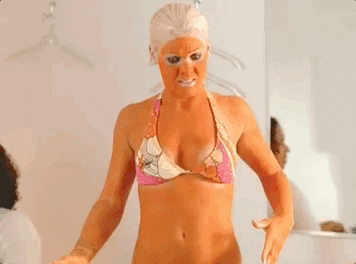 Hopefully, these tips help you feel a little more beautiful this cold winter season. Xoxo!
Nothing burns like the cold. -George R. R. Martin